DHCD Awards Peabody Properties, Inc. $16.8 million towards 98 EssexConstruction.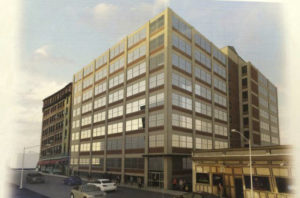 Peabody Real Estate is pleased to announce a $16.8 million commitment from the state Department of Housing and Community Development (DHCD). This commitment was awarded for the construction of 98 Essex Street, a new family housing project.
The Haverhill project award has been awarded to Peabody Properties, an affiliate of Peabody Real Estates, and will be constructed through the partnership of Peabody Properties and the Affordable Housing and Services Collaborative. The Haverhill project award, is one of 25 projects in 17 communities statewide to receive housing subsidy funds in addition to tax credits.
The DHCD has committed a total of $72 Million for the creation, rehabilitation, and preservation of 1,970 housing units across the Commonwealth, including 402 units reserved for low-income families and families making the transition out of homelessness.
To be known as 98 Essex, this project will be a reuse and renovation of the former Shoe and Leather Associates building, and will feature 62 affordable and workforce housing apartments, with 7 apartments reserved for households earning less than 30% of median income, and six at market rate.
Click to read more about Peabody Properties and the new family housing project in Haverhill, MA!
——————————————————————————————————————————————————-
Peabody Real Estate (PRE) is a full-service real estate firm, handling all aspects of residential and commercial real estate brokerage. PRE is an affiliate member of Peabody Properties, Inc. (PPI) a Fish family company with over four decades of real estate success.
Deep-rooted history and proven legacy may seem like a thing of the past, but our service is actually built on this legacy, backed by strong leadership, commitment and passion. We are guided by our core values of respect and integrity, a simple business philosophy that is at the heart of everything we do.
Buying? Selling? Renting? Contact PRE today!